Eyeliner is one of the basics of the art of makeup that defines the shape of your eyes and embellishes them. If you are in a hurry, perfect looking eyeliner can be tricky or really difficult to apply.
It's something to be done in the ultimate peace of mind and with total relaxation. A little misbalance and uneven hand movement can mess up all. If you are in haste, and it's a daily routine of yours, then the best is practicing how to apply eyeliner with a liner pencil. It's easiest and fastest to apply and for correcting the mistakes as well.
Even a little swipe with the tip of your fingers would give a mild smudge that adds to the beauty of your eyes. A pencil eye liner gives a natural and delicate look to your eyes, and a wing to your liner is something that saves your time for applying detailed eye shadows. Thus giving a best day or night, all dressed up and flirty looks too, within just a few minutes!
There are various ways of applying pencil eyeliner, but the winged eyeliner gives a trendiest look and accentuates your eyes too! So, here is a practical and simple method – recommend by makeup experts for applying pencil eyeliner.
How To Do Winged Eyeliner With Pencil
How To do Winged Eyeliner With Pencil
STEP 1: 
Select the eyeliner of the brand that you really like the most. The best one is the pencil which can be sharpened so that you can make a sharp tip for making a sleek and smooth wing. You can also go for Kohl versions of eye liner pencils as they are softer and emollient. An amazing hack for making your eye pencil color go deep is to lightly heat the sharpened tip of the pencil with the help of a lighter.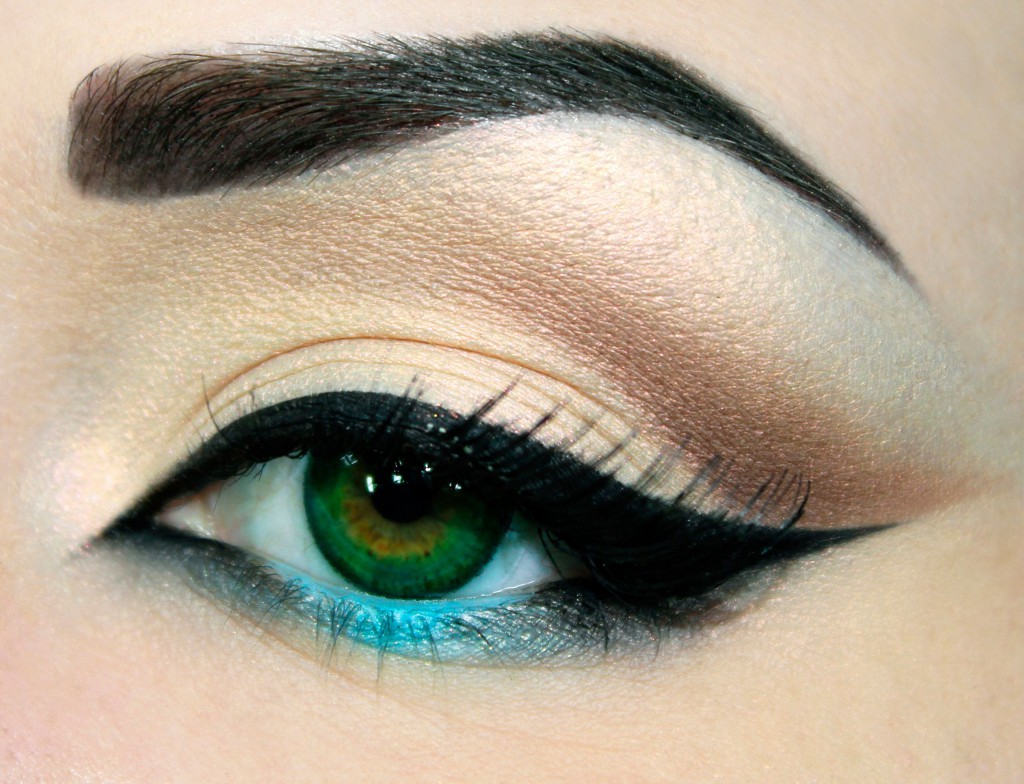 STEP 2:
As always a little bit of primer patted to your eyelids is essential to keep your liner stay for a longer time period. You can also add some concealer to your eyes to hide the imperfections of skin before applying a perfect eye liner. If you have oily eyelids, then a bit of loose powder added with a cat or smokey eye makeup brush, will keep your skin mate – preventing unnecessary smudging.
STEP 3:
Put the tip of your pencil at the inner corner of your eyes starting from the tear duct and apply it in short steady strokes. Keep it closer to your eyelashes and make a thin line in the start. Heading towards the outer corner of your eye, keep the pencil a bit slanted. This will help in applying a sleek line. You must make the liner from thinner to thick while reaching the outer edge.
STEP 4:
For making a wing at the outer edge of your eye, place your pencil at about 45 degree angle at the outer edge of your eye, in such a way that its corners touch the edge of your eyebrows and the side of your nose. This is the perfect angle you need to follow to make a correct and symmetrical wing on both eyes. Mark a dot at this angle, where exactly you want your flick to end. Now, draw a straight line to connect that dot with the outer corner of your eye. You must draw it in a thin, smooth strokes with a soft hand so that you could avoid any mistake. Close your eye and imagine a soft sideways triangle shape and draw a thin line first to meet the both ends. It's better that you work on both eyes first and once you are sure that the wings of both eyes are symmetrical, start filling the triangle with thicker accurate strokes.
Keep your eyelids taut while making the wing at the edge to prevent any wrongly drawn line. If you mess up a little, grab a cotton swab to correct it softly.
Remember, even the makeup experts tend to make errors while working, so be an artist and make a wing of your own style, the one which suits to the shape of your eye. Don't worry about minor errors because you can easily readjust an eye liner pencil's line according to your wish. Even a bit of smudge will make your eyes appear smokier and sexier.
By Jennifer Kurtz
Jennifer Kurtz is a fashion stylist, lecturer and contributing editor of eye makeup brand. With a vast experience in beauty tools and accessories design, she turned into the creative side and has been named as one of the top fashion blogger. Mountain is in her heart – a passion for mountain climbing. Follow her on Twitter.
*Main image source