Saree will always remain the most beautiful and elegant Indian attire for me! It enhances the beauty of the woman who wears it. Saree is not only just an attire, but also a symbol of our Indian culture. Today, I'm going to show you 9 different saree draping styles that are cool, simple yet edgy!
9 Different Ways To Wear A Saree During This Wedding Season
Pant Style Saree
Dia Mirza flaunted this pant style saree in the most beautiful way! She wore a full sleeved blouse and a black leggings underneath the Anamika Khanna ensemble. She didn't wear any jewelry except a ring, since the draping style was a statement on its own! I find this style comfortable because you can walk around freely in it.
Dhoti Style Saree
Andddd BOOM! Here goes the queen Sonam Kapoor. This is my most favourite saree draping style ever. It is very much similar to the Nauvaari saree which is Maharashtrian way of draping a saree. Here is a YouTube tutorial for Dhoti Style Saree!
Saree With Graphic T-shirt As A Blouse!
Actress Jacqueline Fernandez ditched the ethnic blouse and paired a simple printed red saree with a graphic T-shirt / crop top. How cool is that! I really want to try this one because I won't have to spend money on getting a customized blouse. Thank you Jacqueline for giving us this idea, you rock! ❤
Saree With A White Shirt As A Blouse
OK you just saw T-shirt as a blouse, now see this white shirt with a silk saree. Which style do you like better?! I feel that the shirt one will look amazing with Silk/Kosa/Cotton sarees! Honestly, I'm not a big fan of such sarees as I feel that they look too old fashioned. But in this picture, the saree or the model is looking nowhere close to being boring or old fashioned! The white shirt as a blouse can totally modernize the overall look.
Saree Gown
Nope, this isn't cheating! It still looks like a saree, right? Plus, it's hassle free since you don't have to drape it. Saree gowns can be quite expensive. I have looked for them online and most of the good ones are way too overpriced! It's better that you get it designed or customized by yourself instead of spending money on a ready made one.
Modified Bengali Style Saree
A perfect way to wear a Saree to your Bong friend's wedding! Jacqueline wore this red and golden bordered Saree over a heavy work golden jacket. Oh these Bollywood divas, they can look gorgeous in just anything and everything!
Saree With A Contrasting Blouse
While this isn't a Saree draping method, it's still a style statement. I don't know who this pretty woman is in the picture, but I loved how she has paired an ivory coloured Saree with a green blouse. Isn't she looking beautiful?!
Mumtaz Style Saree
To answer your question – No, you cannot walk in a normal way if you wear a Saree like this (tried & tested!). Only legends like Mumtaz Ji can do that! But there's no harm in trying, right?
Street Style Saree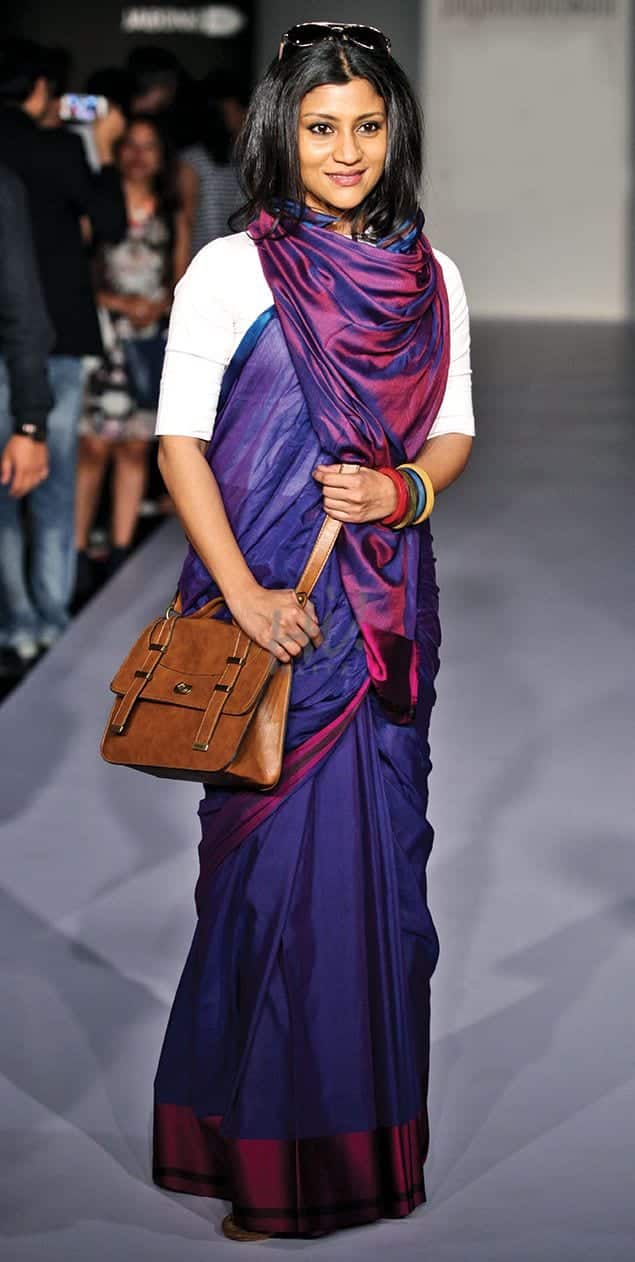 This style is appropriate for wedding functions like cocktail night or such. The Saree doubles up as a scarf when it's styled like this! ?
That's all for now! Do let me know which style was your favourite. 🙂
*main image source