Durga Pooja – also known as Navratri or Pujo, is a big Indian festival which is celebrated all over the country for 9 days with a huge enthusiasm. People from different states celebrate it in different ways, but it is mostly about worshipping the 9 Avatars of Goddess Durga.
During the 9 days of Durga Pooja, people visit various pandals to venerate the Goddess. They wear colorful ethnic outfits and jewelry, be it heavy earrings or experimenting with nose rings, apply bold makeup and experiment with beautiful hairstyles. The festival usually falls in late September or early October of every year and this time it's starting from 1st of October..
I'm going to give you girls 9 Outfit Ideas For Durga Pooja and the best part is that all of them are under Rs.2000 (because I never want my lovelies to empty whole of their pocket!). So let's start with the post. P.S. – There are some bonus picks at the end of the post, don't forget to check them out.
9 Outfit Ideas For Durga Pooja (Under Rs.2000!)
9. AJIO A-line Churidar Kurta with Dupatta (Real price – Rs.1799/-, but it's available for less than Rs.800/- with discounts! ?)
9 Outfit Ideas For Durga Pooja (Under Rs.2000!)
AJIO has a very stunning and very affordable collection of Kurta + Dupatta + Churidar sets. They're currently providing huge discounts on most of their in-house brand's stuff. I chose to list out this pretty A-line Churidar Kurta with Dupatta because of its multicoloured detailing. The same set is available in many other colours as well. You can check the blue one here.
8. AJIO V-Neck Chanderi Kurta (Price – Rs.1499/-)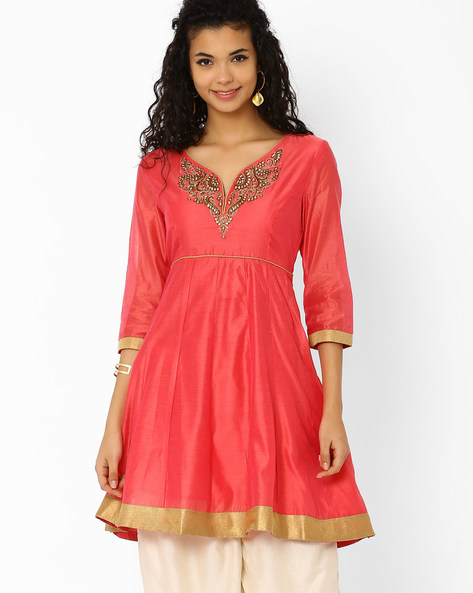 Another very pretty piece from AJIO. This Chanderi kurta can be paired with any of your beige-off white pants or leggings. The model is wearing AJIO's dhoti pant and this pairing is looking just gorgeous, isn't it? I have purchased this kurta for Diwali, I am yet to buy the dhoti pant. The kurta looks even gorgeous in real life!
7. W For Women Printed Straight Kurta (Price – Rs.1499/-)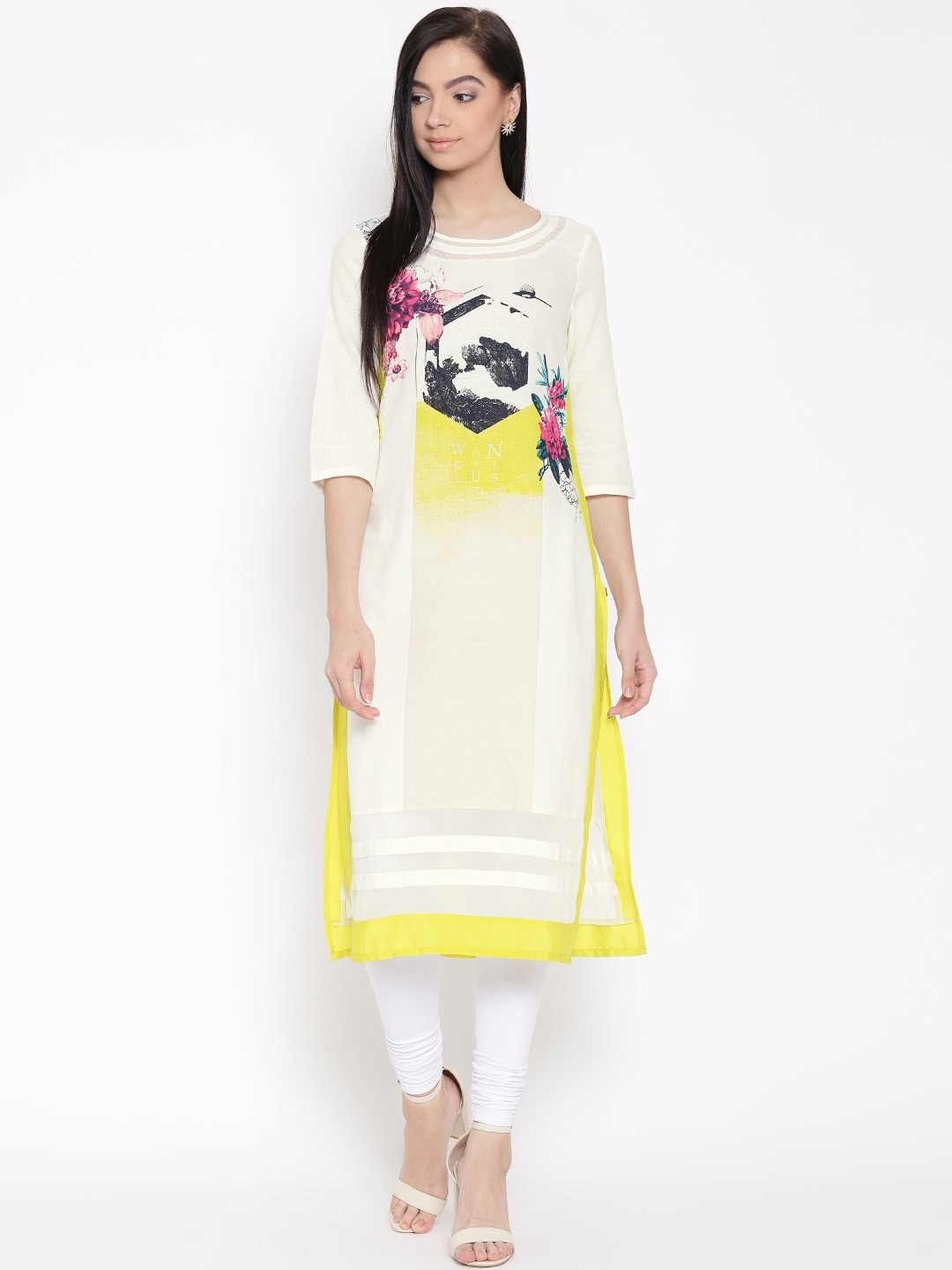 This brand, W For Women is taking India by storm. Their kurtis have a beautiful Indo-Western vibes in them. I really liked one of their white kurtis a lot, but I'm not able to find it again so I chose to show you this one which has nice lemonish-yellow accent in it. You can pair it with a solid plain white leggings.
6. Ira Soleil Purple Printed A-line Kurta (Price – Rs.1375/-)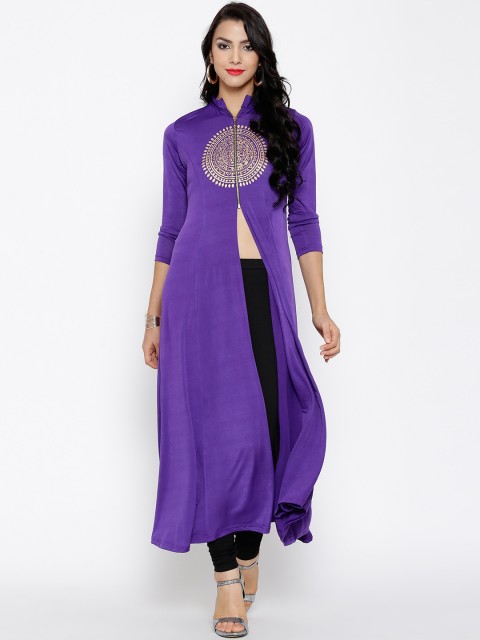 I bought this kurta for myself during Myntra's sale and I'm planning to wear it on Durga pooja or dusshera. It looks very pretty in real life, especially the gold detailing it has on the chest area. The fabric of this Kurta is also of good quality, but kind of heavy. If you don't like wearing Slit Kurtas, you can wear a camisole underneath it. 🙂 I recently found this type of kurta in red colour (by the same brand) and in black colour. Wish I had seen them before buying the purple one. (sigh, being a girl is tough I know my female readers are gonna understand my dilemma) 
5. AVAASA SET Printed Kurta with Churidar and Dupatta (Price – Rs.1799/-)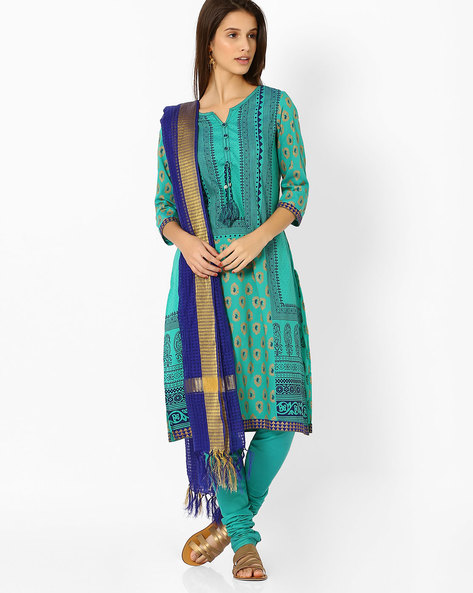 I don't know anything about this brand, but their ethnic collection is flooded on AJIO. I liked the ethnic detailing on this blue set. If you have a better budget, you can check out this embroidered white set (which is now in my wish list!) whose price is just a bit little more than Rs.2000/-.
4. Rangmanch by Pantaloons Women's Cotton Kurta
We all know how affordable pantaloons' clothes are! This black kurta with golden detailing will look very exquisite during  the night time and it will feel very comfortable as well because it is made up of cotton fabric. 🙂
Also read: 12+ Latest & Unique Diwali Gifts For Family [2018]
3. Span Women Gold-Toned Silk Regular Fit Kurta (Price – Rs.1299/-)
A gold kurta with red colour as accent *love struck*. Just pair it with black plazzos and black heels, you're good to go! ❤
2. Fabindia Women Fuchsia Pink Regular Fit Kurta (Price – Rs.1300/-)
A solid kurta can also look good for festivals! Just wear a statement necklace or earrings with it to up your glam level. As you know, fuschia-pink is very much in trends these days, so I would recommend you to go for this fabbindia one because it's very affordable!
1. AJIO Saree with Contrast Border (Currently available for Rs.1150)
9 Outfit Ideas For Durga Pooja (Under Rs.2000!)
I decided to list out a saree at #1 because sarees look very stunning on such occasions. Yeah, this is the third outfit from AJIO on my blog post and nope, it is not sponsored by Ambani Uncle or AJIO at all! It's just that AJIO has launched a lot of cool outfits from their in-house brand on their website. I have never been a fan of sarees because I have always felt that they look too much on me. Still, I recently tried a saree which was just simple and plain, but had a nice contrasting black border. I received a lot of compliments when I posted my picture in which I was wearing that saree. So I guess in future I'll be trying only plain sarees that have contrasting borders and make it my signature style!
Bonus – Jewelry Ideas For Durga Pooja
Your overall look can never be completed without jewelry! Here are some of my favourite jewelry pieces for this festival.
1. Beaded Drop Earrings – These are chandbali style earrings with emerald green beads and pearls.
2. Mohh Pure Silver Gold Plated Nose Clip-on – I don't have a nose piercing and I'm not sure if I'm ever going to get one, but sometimes I feel like wearing nose pins and nose rings. Thats when this clip-on nose pin can come handy! Girls, do try it if you don't have a nose piercing either.
3. Handcrafted Dhokra Brass Necklace – This necklace is going to look ahhhhmazing with the gold Kurta I mentioned above!
4. Metal Filigree Drop Earrings – Filigree earrings are very much in trends these days! Pair these pink earrings with the white-pink saree I mentioned above.
5. Rough Amethyst Statement Ring – Have you ever seen rough stones that look so pretty? This statement ring can go with your Indian outfits and western outfits as well.
6. Boho Neckpiece – Boho Jewellery is love! Wear this huge-ass Boho Neckpiece with any of your solid dress or kurtas.
7. Oxidized Earrings In Peacock Shape – Oxidized jewelry looks super  cool with Indian outfits, especially with light coloured ones.
8. Embellished Snake Bracelet & Beaded Cuff Bracelet – How can we forget about Bracelets?! Ditch the bangles and wear these Indo-western style embellished and beaded bracelets with your ethnic outfits. ☺
That's it lovelies! Hope you enjoyed my blog post and found some nice ideas for your outfits and jewellery for Durga Pooja.  All of the outfits I picked are ethnic because I feel that this festival of Durga Pooja comes only once in a year so we should try to wear something that is attached to our Indian culture. We can wear western outfits for the rest of the year, no? ☺ Let me know what do you think about my picks and if you're planning to buy any of them. ☺